We are pleased to tell you that more and more customers are signing up to Sage One Accountingl. More than 7,000 businesses are using our cloud accounting software to help them with their accounting.
It makes us so proud to receive e-mails telling us how people "love" working with the system, or "find accounting a breeze" with the help of Sage One Accounting.
However, we still receive e-mails telling us "the system looks great but its taking me a while to find my way around". So we had an idea – why don't we offer free training to all of our users. An hour spent in a training session could save you hours of frustration as you get to grips with the system.
There's no catch here.
This is just an honest attempt to help you get up to speed with Sage One Accounting. To make you aware of all the features it has to offer. It really frustrates us when we see people who eventually find out that there was an easier way to do things and they just never knew that thefeature was waiting for them to be discovered.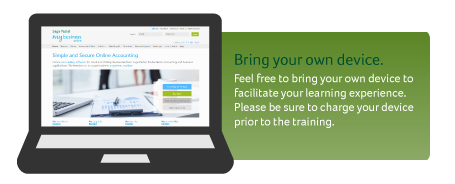 After all – you are the very people who, through word of mouth, will be our greatest and most credible source of advertising.
Many thanks,
Sage Pastel Accounting Training
PS. If you want the training material, it will be available at a cost of R100.00 inclusive of VAT on the day of the workshop. Please note that there are no card facilities.